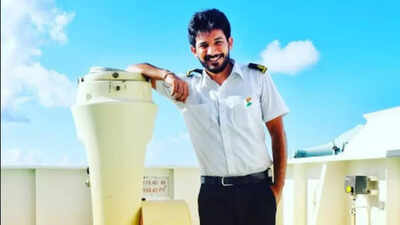 Ghaziabad resident third officer Shivam Malik who was found dead on an Anglo-Eastern ship en route to Gibraltar
NEW DELHI: An Indian Air Force officer has filed a police complaint in Ghaziabad, Uttar Pradesh, against a Hong Kong-headquartered shipping company for allegedly lying about the cause of his sailor-son's death on board one of its vessels.
Gyanendra Singh Malik, a junior warrant officer in the IAF, told TOI that Anglo-Eastern, one of the largest shipping companies in the world, claimed his son, Shivam Malik, had committed suicide, but the postmortem conducted in India made it clear that "he was murdered".
In a letter to the family, Anglo-Eastern had said that "the ship's staff found third officer Shivam Malik hanging in the bow thruster room" of MT Shangdone Zihe on October 1 en route to Gibraltar (a British overseas territory and headland on Spain's south coast). "Shivam Malik was given immediate medical assistance, including CPR. However, despite the best efforts of the ship staff, he could not be revived and doctors from CIRM (which provides medical assistance to seafarers) confirmed that he had passed away," the letter stated.
After receiving Shivam's body in India on October 23 22 days after his death, Malik, currently posted at the IAF base in Gujarat's Gandhinagar, had a postmortem done by the local authorities in Ghaziabad. Malik told TOI that the examination contradicted the shipping company's claims. The autopsy report, a copy of which is with TOI, says, "Hyoid bone and thyroid cartilage were fractured. Trachea rings were fractured and trachea was congested. The cause of death is asphyxia as a result of ante-mortem strangulation."
Filing a police complaint, Malik claimed that "during a WhatsApp call on September 21 last year", Shivam had claimed that he had overheard some ship officials discussing the smuggling of a drugs and weapons consignment and had confronted him when they saw him in the galley.
TOI made several calls to Rejish Chacko, welfare officer, at Anglo-Eastern's Mumbai office but the phone remained unreachable.
In a video posted on social media, Shivam's sister Anchal, who runs a marketing company, claimed that the postmortem examination showed that strangulation as the cause of death. "There were also injury marks on his cheeks and nose and a bone near the neck was fractured," she alleged.
Anchal described Shivam as a cheerful boy with plans about marriage and house purchase. She said that since the family was financially stable, her brother had no reason for ending his life.
The sister said though the external affairs ministry had assisted in expediting the repatriation of the body, the family wanted the Union shipping ministry and the central government to initiate a fair probe into his death. "We don't want compensation, only tough action against the company and the guilty officials," Anchal told TOI.
All India Seafarers Union, which took up the cause of the family, is providing it all support in its "fight for justice". In fact, union working president Abhijeet Sangle said that the union had been approaching different authorities since the death of Shivam was reported in October to get back his body and now to seek the truth behind his death.

FacebookTwitterLinkedinEMail