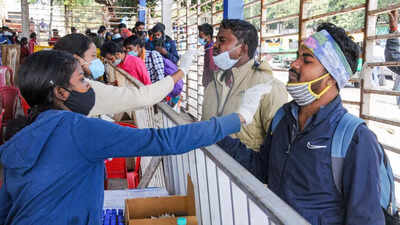 MUMBAI: Hit by the third Covid wave, organisations are once again grappling with absenteeism from work.
Covid leaves are being used by employees, and organisations are deploying job rotation, multi-tasking and also engaging temp staff to maintain business continuity. Given the rising cases across India, organisations have gone back to a work-from-home (WFH) mode for office-based staff, while maintaining Covid protocols at factories. Some of the organisations TOI spoke to said they are witnessing absenteeism of the same order witnessed in the second Covid wave.
JK Group president (group HR) Prem Singh said time-tested HR processes like multi-skilling, multi-tasking and job rotation have proved handy. "As a large manufacturing organisation, we also follow a practice of flexi-workforce, which allows for in-built contingency. We also follow a flexible manning system wherein we engage a skilled temp workforce, which can be deployed against absenteeism," said Singh.
RPG Group president (HR) S Venkatesh said, "When team members get infected, colleagues rally around them and help with their work as well." Marico CHRO Amit Prakash said the company prioritises work in case more than one team member get infected. "Focus shifts on 'must do's' while 'good to do' can wait. Our members are empowered to take decisions," said Prakash.
Deloitte India partner & chief talent officer S V Nathan, however, said the firm hasn't see any blip in absenteeism. "We have given leave for Covid over and above the normal and, so, people use this leave. There is a business continuity plan in place, which will get triggered if we see a major uptick in Covid cases," said Nathan. But given that the symptoms are mild in most cases, Nathan said people do work when they can.
Organisations said they are certainly better prepared this time round. "We have become adept at managing these disruptions. We are at ease and quite efficient now in managing work in both hybrid mode and in 100% remote working mode, without losing productivity, response time and quality of work delivered," said Venkatesh.
Prakash said, "In order to ensure the business continuity and production of essential goods for our consumers while also taking cognisance of the well-being of our members in the units, we have implemented shift-rostering that further limits the members' exposure internally. Members are restricted only to their allotted work zones and wear approved PPE kits and N95 masks, while following strict sanitisation and social-distancing norms at all times. We have also implemented staggered entry and exit times for members to avoid gathering at the gate."

FacebookTwitterLinkedinEMail